A series of wildfires continued their tear through California on Friday, encroaching upon an area still reeling from a
mass shooting
that struck the community of Thousand Oaks just one day earlier.
At the hospital in Paradise, more than 60 patients were evacuated to other facilities, some buildings caught fire and were damaged, but the main facility, Adventist Health Feather River Hospital, was not, spokeswoman Jill Kinney said.
Some of the patients were initially turned around during their evacuation because of gridlocked traffic and later airlifted to other hospitals, along with some staff, Kinney said.
Four hospital employees were briefly trapped in the basement and rescued by California Highway Patrol officers, Kinney said.
Concerned friends and family posted frantic messages on Twitter and other sites saying they were looking for loved ones, particularly seniors who lived at retirement homes or alone.
Chico police officer John Barker and his partner evacuated several seniors from an apartment complex.
"Most of them were immobile with walkers, or spouses that were bed-ridden, so we were trying to get additional units to come and try and help us, just taking as many as we could," he said, describing the community as having "a lot of elderly, a lot of immobile people, some low-income with no vehicles."
Kelly Lee called shelters looking for her husband's 93-year-old grandmother, Dorothy Herrera, who was last heard from on Thursday morning. Herrera, who lives in Paradise with her 88-year-old husband Lou Herrera, left a frantic voicemail at around 9:30 a.m. saying they needed to get out.
"We never heard from them again," Lee said. "We're worried sick … They do have a car, but they both are older and can be confused at times."
Acting California Gov. Gavin Newsom declared a state of emergency in the area and requested a federal emergency declaration, saying that high winds and dry brush presented ongoing danger.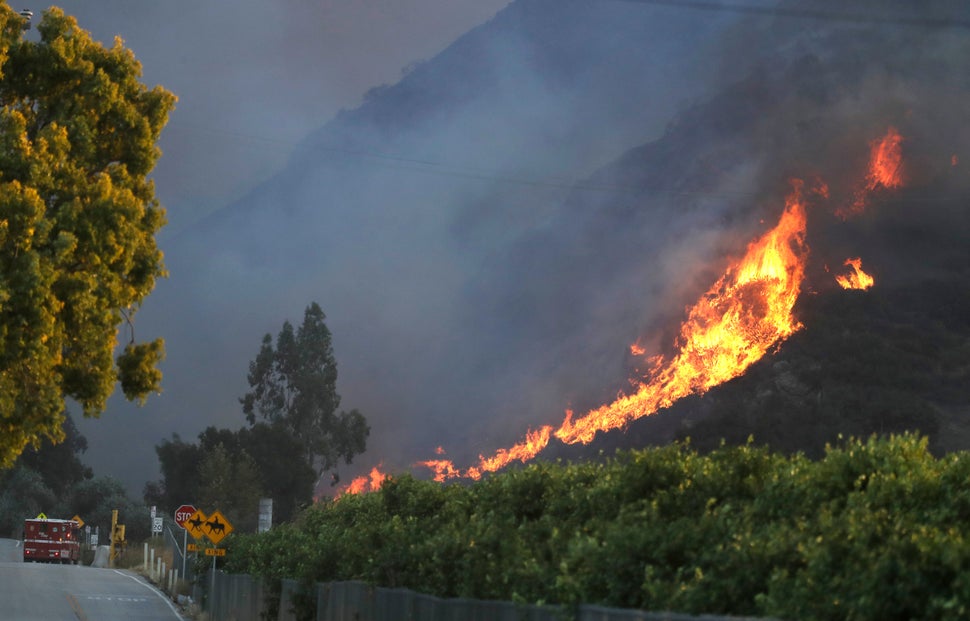 A wildfire comes down from a hilltop near Newbury Park, Calif., on Nov. 8.
Fire officials said the flames were fueled by winds, low humidity, dry air and severely parched brush and ground from months without rain.
Officials were sending as many firefighters as they could, Cal Fire spokesman Rick Carhart said.
"Every engine that we could put on the fire is on the fire right now, and more are coming," he said. "There are dozens of strike teams that we're bringing in from all parts of the state."
The National Weather Service issued red-flag warnings for fire dangers in many areas of the state, saying low humidity and strong winds were expected to continue through Friday evening.
Story from huffingtonpost.com